Stamped concrete adds color and texture to concrete to simulate the look and feel of stones, for example, ashlar slate and European cobblestone. Color hardener is added to the concrete to give it a base color, such as reddish-brown for a brick-like color. After we pour this colored concrete, we use stamping mats to imprint the pattern onto the concrete.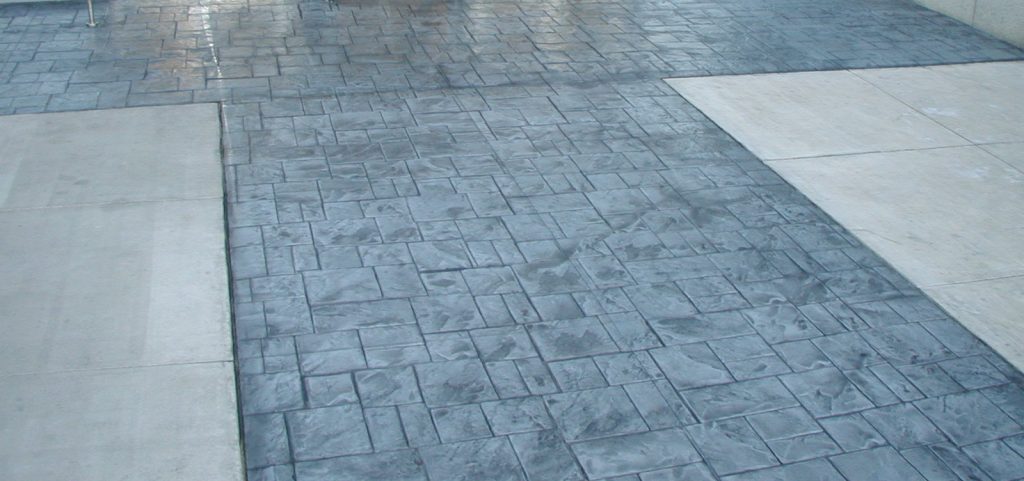 Why Pick a Stamped Pattern for Your Concrete Project?
Imprinted concrete is a great way to enhance outdoor spaces without sacrificing durability or affordability. There are many different colors and patterns available and we can help you find the right look that will blend in with the surrounding scenery. Together we can help you achieve a look you will be proud to showcase to your friends and family for years to come!

The stamping mats we use are molded based on the actual materials they attempt to replicate. Naturally, this gives stamped concrete a very natural, realistic look. Accent colors even simulate the look of grout, but without allowing grass or weeds to grow through the joints. Once properly sealed, patterned concrete arguably looks better than the real thing.

Of course, like traditional concrete solutions, stamped concrete is very durable and will last for decades when properly maintained. Initially, we apply a sealer to our stamped surfaces that protect it from wear and make it easier to clean and maintain.
Available Patterned Concrete Services
We can apply the ashlar slate and European fan cobblestone patterns to most of your concrete flatwork projects, including:
Patios
Walkways
Stairs
Driveways